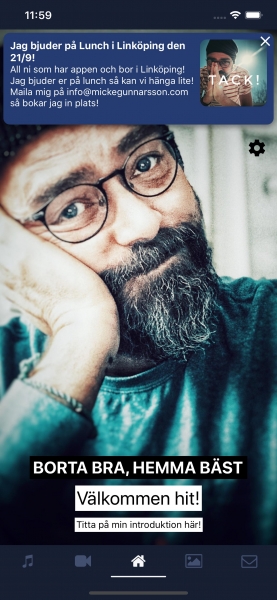 Follow Micke Gunnarsson
Micke has a background with youths via preschool, school, cultureschool, supportfamily, young entrepreneurship and in the role as a father of three. On the other hand he has his own entrepreneurship, leadership, internet, digitalization and health. This is done togheter with his wife Jenny.
Audiobook
Listen to Mickes new book "Tio saker jag vill säga till mina barn innan jag dör." exclusively in the app. No matter if you are at home comfortably on your couch or out on the move, the audiobook will always be with you.
Exclusive videos
In the movie section of the app you can watch exclusive videos created by Micke specifically for this app. You can also watch videos previously created by Micke, all collected in a single place
Podcasts
Listen to podcasts which Micke has guested in the past or listen to the brand new podcast ".Barnatro", exclusively in the app.
Daily Image
Micke has prepared some thoughts for every day of the year. Take a pause in your day and read and think.
Daily Image
Don't miss anything Micke does via push notifications in the app. Micke has some secrets planned that only the people using the app will access
Personal Contact
In the app you can ask Micke questions directly and get Mickes thoughts on life problems or just what color of a shirt you should wear.